Cav culminates centennial celebration at Fort Hood | Item
FORT HOOD, Texas – The 1st Cavalry Division celebrated 100 years of service to the nation with a centennial celebration outside their headquarters here on Cooper Field on September 24.
"It is indeed an honor to be back home with America's First Team, to celebrate our centennial," retired Command Sgt. Ceremonial review officer Major Rory Malloy said. "We call for sacrifice and service to the thousands of veterans who, throughout the history of the first team, have stepped up to serve when our country needed it most."
Malloy, who served as a division sergeant major from 2008 to 2001, recalled the sacrifices of American veterans, who took an oath to protect and defend the Constitution against all enemies – foreign and domestic – instead of pledge allegiance to a king, an emperor or even a president. He added that the courage and sacrifice of the country's veterans is exemplified in the 43 first team medals of honor.
"We have all heard the statement, 'Freedom is not free,' and people all over the world sleep safely at night under the umbrella of freedom, the protection that our veterans have provided over the course. of the past 100 years and continue to do so today, "Malloy said.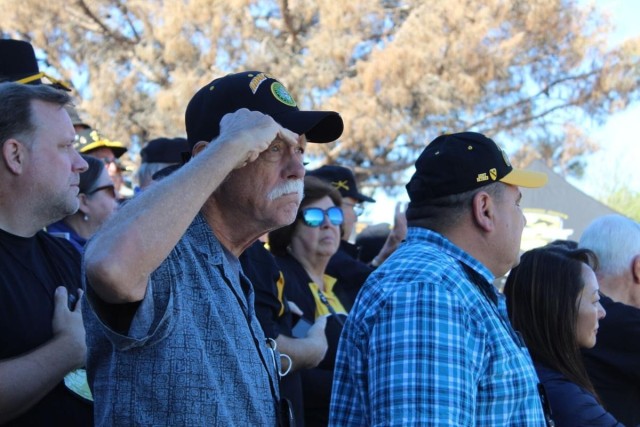 Hundreds of people stood up as Malloy called out veterans of each of the wars of the past 100 years, where he highlighted the heroic moments of the 1st Cav. Div. the story. The former division command sergeant major also thanked the families for their sacrifices.
"To our soldiers in the field today, you carry a flag on your right shoulder. Our family members and children don't wear a flag on their outfits, but they wear it on their hearts, "he said. "They wear it on their hearts every day and it is something that cannot be taken away from them because of the sacrifices they have made throughout history."
The celebration also included a living history presentation, showing how uniforms and weapons have changed over the decades. Malloy then joined Maj. Gen. John Richardson IV and Command Sgt. Major Shade Munday, 1st Cav. Div. command team, in the field to attach five new campaign banners in the division's colors, depicting the global war on terrorism.
"Don't take wearing this Cav patch for granted, especially if you have one on both shoulders," Malloy told soldiers-in-training in the field, "because someday you won't be able to wear it anymore."
The ceremony also included a pass in review and the famous cavalry charge, which, jokingly, was the real reason everyone was there.
"I thought it was exceptional, especially seeing this detachment of horses perform", John Rike III, a 1st Cav. Div. veteran from Haskell, Texas, said of the ceremony.
Rike served with the 1st Squadron, 9th Cavalry Regiment, 1964-1965 along the Imjin River near the Freedom Gate Bridge, Republic of Korea. He said he tries to attend the division's anniversary celebrations every two years, when they're in Texas.
After the grand ceremony, the brigades set up static displays along Legends Way, with soldiers on hand to answer questions. 1st Lt. Hayley Haka, 1st Air Cav. Bde., Said the event and meeting with veterans had an "impact".
"They (the veterans) come to thank us for what we were able to provide them in Vietnam," Haka said. "They would get in the back of our plane and that's how they would get to their goal. They talked a lot about how they needed this support to be medically evacuated, as well as air support. "
The aviator said speaking with the veterans who came before her made her want to work harder to become a better pilot, soldier and officer. She said it was an honor to meet the 1st Cav. Div. legends.
"Maybe one day I'll be that pilot who will bring this soldier back to his family," she added. "They thank me for my service and I thank them for paving the way for us, because without them we wouldn't be here doing this today. It was incredibly powerful.